Modify Item
Here you can modify properties of your Item. Press

"Properties" button. The "Properties" dialog window will appear.
General Properties
This window allows changing general Item properties. For detailed description, see New Item Wizard, Step 2; New Item Wizard, Step 3.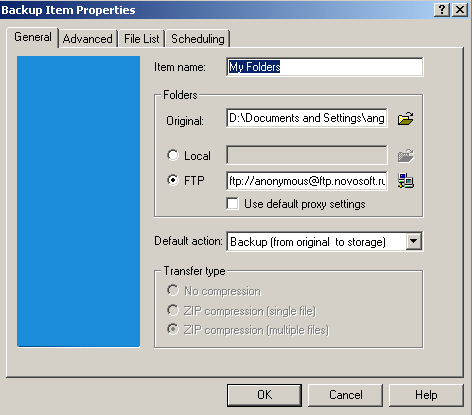 Item name: You can edit a name of your Item.
Folders: You can change original and storage folders of files.
Default Action: Allows selecting another action - for example, restore or synchronize.
Transfer type: Here you can specify whether you prefer to compress your file or not and choose the type of compression.

Advanced Properties
This window allows changing advanced properties of your Item.
Overwrite existing files: All files in the storage folder will be replaced with the current Item files.
Ignore include/exclude masks: Set to ignore include/exclude masks.

Do not encrypt files: If your data is not too security sensitive, you may choose this option by checking the corresponding field.
Pack files with a password: Packs your files with the standard encryption method that is usually used to protect ZIP-archives.
Encrypt files with Blowfish method: Encrypts your files with a highly secure 128-bit encryption algorithm. This option is especially recommended for remote backup.
If any of the last two options is checked, the edit boxes Password and Confirm password will be enabled. Enter your password twice to be sure you typed it correctly.
Change ZIP name: Enables you to change the name of your Zip-archive.
File Properties
You can reselect files in your folder that should be backed up. Push Edit include/exclude scheme button.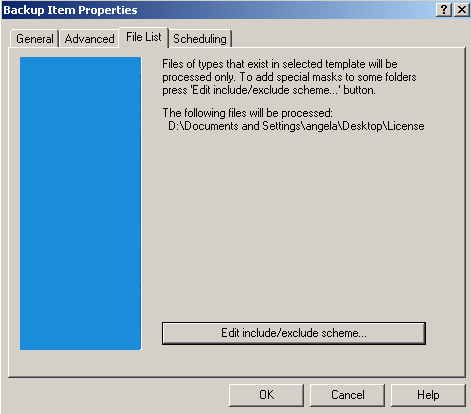 Scheduling Properties
You can select another schedule type and set a new transfer period.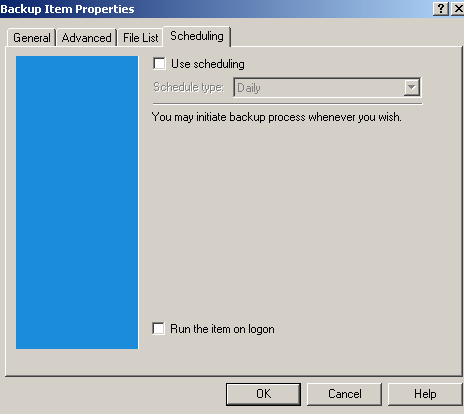 Use scheduling: Check "Use scheduling" checkbox to enable the scheduler. Select required transfer period from the "Schedule type" listbox. For more detailed description, see New Item Wizard, Step7.
Run the item on logon: Runs Item on logon when checked.