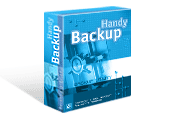 Try Handy Backup 7!
Backup to FTP

Copyright © 2002-
Novosoft LLC


Why do I need Handy Backup 2.1?
There are three reasons for backing up your files with Handy Backup 2.1.
Handy Backup 2.1 keeps your valuable data safe from irreparable loss or damage

According to statistics, dozens of gigabytes of data are being lost or damaged every single day. Accidents, virus attacks, power problems – there are thousands of possible events that may cause a loss or damage of vital information stored on your computer. In order to protect yourself from unexpected loss of all or part of your important data you should backup your files. The safest way is to keep all your backup copies on a remote computer located in a different building or even a city.

If you have a single computer with only one hard disk, making backup to the same disk is not recommended. If the disk crashes all data will be lost including backup files.

With Handy Backup 2.1 you needn't worry about performing backups

Once you've performed an initial setup, Handy Backup 2.1 will do all the rest for you. It has a powerful and flexible scheduler that covers all your possible needs.

Handy Backup 2.1 allows you to have a peace of mind

Whether it's a virus attack, corrupted file, a hard disk crash or any natural disaster - you'll always have a backup copy of your important data, and hence, a peace of mind.