New Item Wizard, Step 3: Set Transfer Type
Here you can specify a type of action for your files and set transfer parameters.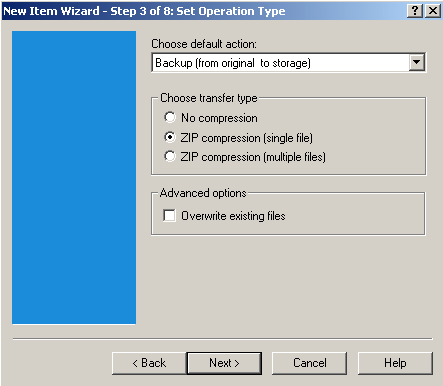 Choose default action: Select an action from "Choose default action" listbox:
Backup (from original to storage): Copies an Item from original folder to storage folder.
Restore (from storage to original): Copies backed up copy of an Item from storage folder to original folder.
Synchronize: Makes all files in original and storage folders and all their sub folders exactly identical.
Choose Transfer Type: Select a transfer option:
No compression: Copies your files without archiving (e.g. if your files are already packed).
ZIP compression (single file): Compresses your data before copying into single ZIP archive.
ZIP compression (multiple files): Compresses your data before coping into multiple ZIP archives, i.e. every file will be compressed separately.
Advanced options: Set an advanced option:
Overwrite existing files: All files in the storage folder will be replaced with the current Item files.
Press "Next" button to continue.