Program Menus
Program Menus allows you to manage your Items, files and log messages with a number of commands.
1. File Menu

Create Item:New Item Wizard will come up.


Transfer:Performs an immediate transfer of a selected Item.

Stop:Stops process of transfer. The command is available only during the process of transfer.


Suspend:Temporally suspends processing of selected Item. Note: If you do not resume a paused Item manually, it will be resumed automatically after you restart Windows.


Resume: Resumes transfer process.

Delete:Deletes selected Item.


Modify:Opens "Properties" window where you can view and modify properties of existing Items.
Exit:Closes the program. When you exit, the program will still perform automatic transfer if your computer is on.
2. Edit Menu

Cut:Deletes a selected object and copies it into the clipboard.


Copy:Copies selected object into the clipboard.

Paste: Pastes the selected object from the clipboard.


Properties:Allows viewing or changing general program settings.

3. View Menu

Toolbar: Shows toolbar line when checked.
Status Bar: Shows status bar when checked.
Log Window: Shows commands to operate with Log window and Log entries.
Show Log Window / Hide log window: Displays / hides Log pane.


Show only for selected unit: Displays log events related to a selected Item.


Save log: Saves a log as file for later viewing and analysis.


Clear log: Clears Log View window.


Refresh: Refreshes list of files.

4. Actions Menu


Backup: Performs backup of a selected Item.


Restore: Performs restore of a selected Item.


Synchronize: Synchronizes a selected Item.

5. Help Menu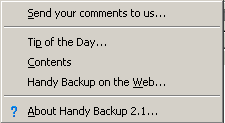 Send your comments to us..: The window allows sending your comments and suggestions to Handy Backup team. Whatever you want to do – to report a bug, to make a request for a feature or to express your opinion, we are looking forward to your feedback.
Tip of the Day..: Opens "Tip of the day" window.
Contents: Shows Handy Backup Help topics.
Handy Backup on the Web..: Takes you to Handy Backup page on the Web.

About Handy Backup 2.1: Provides information about the current version of Handy Backup.