General Settings
Here you can view and modify general program settings.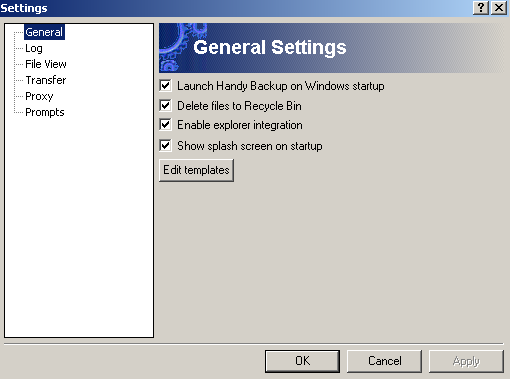 Launch Handy Backup on Windows startup: Launches Handy Backup 2.1 on Windows startup if checked.
Delete files to Recycle bin: Enables deleting files to Recycle Bin if checked.
Enable Explorer integration: Enables Explorer integration by adding Handy Backup 2.1 commands to the standard Windows context menu if checked.
Show splash screen on startup: Shows Handy Backup 2.1 splash screen on startup if checked.
Edit templates: Allows editing and creating files templates.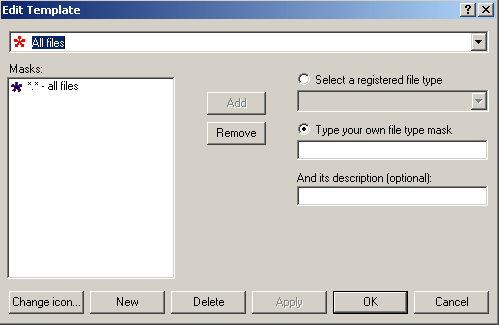 To edit the existing template, choose the template you want to edit from the list of templates. The "Masks" window below will show types of files included in the template. Note: Default templates of Handy Backup 2.1 can not be modified.
Select a registered file type: Allows choosing a file mask from the list of registered file type masks. To add a file type to the template, check the "Select a registered file type" box and press "Add" button. To remove a file type from the template, choose a file type to delete in the "Masks" window and press "Remove" button.
Type your own file type mask: Check this box if you want to add an unregistered file type mask.
And its description (optional): Enter the description of your file mask.
Change icon...: Allows changing a template icon. Click the button to see the list of available icons.