New Item Wizard, Step 4: Set Advanced Options
Here you can set a number of advanced options: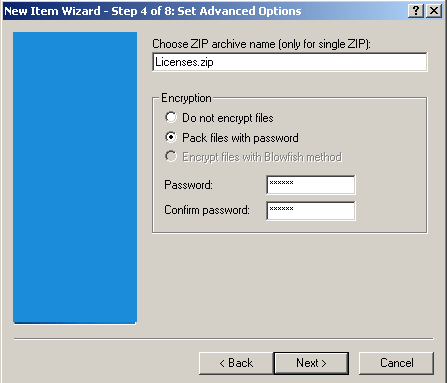 Choose ZIP archive name (only for single ZIP): By default New Item Wizard suggests you the name of your original folder. You can change this name and type your own one in the box.
Encryption:
Do not encrypt files: If your data is not too security sensitive, you may choose this option by checking the corresponding radio button.
Pack files with a password: This option is active only in case your files are ZIP-compressed. Check the radio button and the program will pack your files with the standard encryption method usually used to protect ZIP-archives.
Encrypt files with Blowfish method: This option is active only in case your files are not ZIP-compressed. The program will encrypt your files with a highly secure 128-bit encryption algorithm. This option is especially recommended for remote backup.
If any of the last two options is checked, the edit boxes Password and Confirm password are enabled. Enter your password twice to be sure you typed it correctly.
Press "Next" button to continue.