New Item Wizard, Step 5: Select Template
Template is a set of file masks defining what files in your original folder to transfer.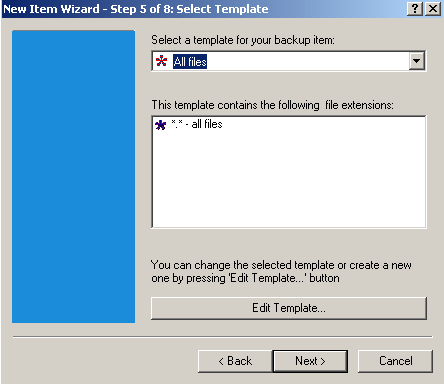 Select a template for your backup Item: Here you can select one of available templates. The following templates are set by default:
All files: All files in an original folder will be transferred.
Media files: Only files with extensions *.avi, *.mp3, *.mpg will be transferred.
Microsoft Visual C++ project: Only MS Visual C++ project files (*.c, *.cpp, *.dsp, *.dsw, *.h, *.rc ) in original folder will be transferred.
You will see the list of all file types included in a selected template in the box below.
"Edit Template" button: Allows you to create your own templates and edit already existing ones. The "Edit template" dialog window will be displayed.
Press "Next" button to continue.