Server Backup Service: Backup and Restore Servers on Cloud
Discover the Might of Best Backup Services

Cloud backup services provided for server needs are the popular way of securing sever data. Best backup services available for servers must be able to store server data off-site, using one to several commercial cloud accounts for data keeping.
Which features makes a server backup service the desired addition for system administering toolkit?
Automation of backing up multiple server data including databases and websites;
Ability to use cloud backup services for keeping information;
A full spectrum of backup options such as scheduling, encrypting and logging.
Handy Backup server editions are completely fit these needs (along with much other criteria), making it one of best backup services throughout the world.
Principal Features of Handy Backup Server Editions
These are two editions of Handy Backup dedicated for server needs.
Handy Backup Small Server, designed for standalone servers running under any edition of Microsoft Windows;
Handy Backup Server Network, able to save and restore server data from the multi-machine network grid, running under both Windows and some Linux distros.
Both of these editions have features of utilizing different cloud backup services and automating backing up all server-type data (see below).
Organizing Server Backup Service Using Handy Backup
With any server edition of Handy Backup, you may use all the best server backup service features mentioned above. Let us explain how Handy Backup sever editions operates with the mainstay of server backup tasks.
Linking with Cloud Backup Services

Handy Backup can automatically move server data backup to Amazon S3 commercial cloud, to the popular Dropbox cloud service, or to dedicated Handy Backup's online storage service HBDrive. It can also backup data to – and from – any other cloud using WebDAV or local service-linked folder.
Automating Server Data Backup

As the best server backup service must do, Handy Backup can automatically collect and backup any server-type data available, including databases, website content, the information stored on FTP/SFTP/FTPS, Exchange and Outlook content, specified folders and files selected by mask.
Controlling Server Backup Service Tasks

Handy Backup can run as Windows service, making no distractions for common users when backup or restoration tasks are running. It may schedule any task for one time or for the period from minutes to months. All activities may be controlled via E-mail notifications and logging the performed job.
Comfortable Operations with Backup Data

By default, all data backed up are stored in their native format, making no trouble to work with these data just from backup media. The information may be also encrypted for extra security and compressed for reducing the storage space requirements.
Extra Levels of Functionality

Handy Backup may perform full, incremental, differential or mixed backups. All data backed up may be marked with time stamps clearly defining the time of creating the particular backup copy. Along with commercial clouds, all modern storage media types may be used for storing backups.
Differences between Editions
All the features and options described above are available for both server backup service editions of Handy Backup. The extra feature of Handy Backup Server Network is an ability to use these features simultaneously on many other computers equipped with Handy Backup Network Agents.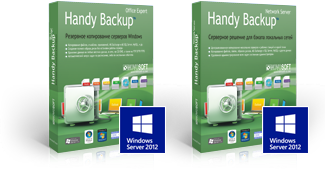 Download Handy Backup
The setup file is common for both editions. Try free for 30 days!
With all the possibilities shortly described above, server backup editions of Handy Backup may be best backup services for both small servers and complex infrastructures available on the market.
Bringing you strong and ready technical support, regular updates under the major version and reasonable prices, Handy Backup definitely may serve you as a backbone of your business information security for a long and productive time.
Check Handy Backup, the market's optimal price-and-power backup server service!
Learn more about: