Encrypted Backup: Advantages Encrypt Backup Data
Encrypted Backup with Handy Backup protects your data from unwanted access using 128-bit Blowfish encryption tool, which is the most perfect and advanced method that is exploited for Internet backup. Blowfish backup encryption is very easy to tune to your needs, easier than putting a key into a lock.
What is Encrypted Backup?
Encrypted Backup software works like a virtual mixer that takes your data and creates an unreadable cocktail of binary code that can′t be accessed by anyone except you. Only you are holding the backup encryption password, and so this data mix will restore its original form and become understandable by your demand only.
How to Encrypt Backup with Handy Backup Free for Cloud
Adjusting backup encryption is very easy and won't take much effort at all with Handy Backup Free for Cloud:
Open Handy Backup and create a new task.
Select Backup Task on Step 1.
On Step 2 choose data to encrypt from the Computer.
Select your cloud storage on Step 3 and backup type on Step 4 for encrypted data backups.
Step 5 allows you to tune backup encryption as you want it.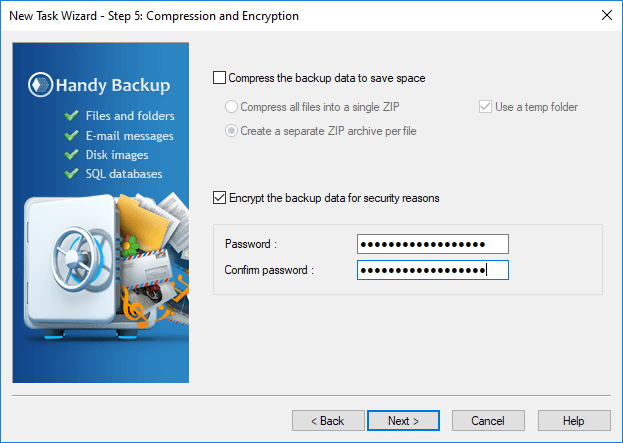 Check "Encrypt the backup data for security reasons" and enter the password twice so the copies are well protected in the future.
Attention: It's recommended to save your password in a secure place to have access to your data whenever you need it. Handy Backup Team does not have any access to your password and does not have a tool to restore it.
Follow the instructions as it described in User Manual.
Advantages of Backup Software Encryption
Why does the argument of encrypted backups vs unencrypted backups ends in favor of encrypted backups? We have some points ready for you:
Safe to share: you can transmit your encrypted data via email, networks, upload to a cloud and be sure that this data has the minimum risk of getting hacked.
Safe to keep: encrypted data can′t be damaged or modified unnoticed.
Safe data: encrypted backups are useless unless you have a key to decrypt it, so no secure information will fall out of your reach.
No degrading: your backups are kept as a whole, consolidated chunk of data.
Effective: Handy backup provides less time and system resources consuming technology than encrypted backup Windows files.
This is what makes encrypted backups so appealing to many users.
What Data Can be Backup Encrypted?
Handy Backup allows users to encrypt any data, most popular choices being:
Encrypt Project Backup - projects cost money and nobody would like to lose money they've earned. Encryption makes your projects untouchable for rivals and safe.
Cloud Backup with Encryption - clouds can be hacked, so it's a good idea to encrypt most valuable files there. You can create encrypted backup drive if you are not a big fan of clouds.
Encrypt Database Backup - these store an abundance of most vital data. Backup encryption is the best way to protect this data.
Hard Disk Drive Backup with Encryption - hard drives are at the heart of the PC and contain a lot of data that can be stolen, unless encrypted.
Encrypt Website Backup - websites take a lot of effort to put together, and they are a favorite target for hackers. It's vital to have an encrypted copy of a website to secure its further wellbeing.
A lot of applications are designed to encrypt data, but Handy Backup serves for any type of data and provides efficiency unknown to software that is found on the Internet.
Handy Backup provides encryption of all backup data.
Try it right now by downloading free 30-days trial version!