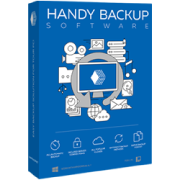 Try Handy Backup 8!
Backup to FTP

Copyright © 2002-
Novosoft LLC


Cloud Storages for File Backup
Different Types of Storage Backup
Handy Backup Standard Software is designed to work with many type of local and remote backup storage media, including:
HDD
This is the most current type of backup which means saving your data backup copy to the local hard drive. More...
USB device
It can be very useful for mobile users, who wish to always have the most up-to-date data with them, when going home from work for instance, or vice versa. More...
Local network drives
It is a simple way to keep your documents, applications and other files to a local drive.
FTP
You can store the backup copy of your data to FTP server almost as easily as you make it inside the local network. Specify an FTP site name and your username/password and Handy Backup will connect to the site and let you choose an FTP directory for your backup. You will be able to do this as if you would work with your local folders. You can even create a new directory and use it as a backup destination. More...
Online backup with Handy Backup
This is a method of offsite data storage which allows files, folders, or the entire content of a hard drive to be regularly backed up on a remote server or computer with a network connection. Online backups are more secure because they are physically separated from the original data. More...