Backup Scheduler in Handy Backup is easy to tune, setting required backup period from minutes to months. Data backup schedule is a vital feature for backup software.
What is Backup Scheduling?
Scheduled Backup software allows you to set up a specific schedule that will backup your data automatically whether it will be a one-time backup or a regular-based backup.
The backup still can be manually but scheduling backup will save your time and backup your data even if you forgot to.
Backup Schedule Your Computer Data
Automation of all tasks. Forget about backing up manually - backup task scheduler will do it for you, running backups on its own without reminders and user interference.
Flexible schedule configuration. You are free to backup all at once or, instead, each type of data can get its own specific backup schedule. You can set up intervals up to your liking, backing up images once a month, databases once a day, etc.
Cloud storage. It is much safer to keep your backups on a distant cloud server and guess what backup schedulers work well with cloud storage. You might even want to encrypt backups on cloud if you want to make sure your data is secure.
How to Create a Scheduled Backup Task in Handy Backup Free for Cloud
To set up a free scheduled backup task in Handy Backup, please follow the instruction below:
Open Handy Backup Free for Cloud and click "New Tack" button. On Step 1 select Backup Task.
Select data that you want to backing up on Step 2 and cloud backup storage on Step 3.
Select the type of backup on Step 4.
On the next step, you can set up compression and encryption.
Tune up backup task schedule on Step 6. Select "Enable scheduler" to pick the date and time for tack execution and repetition of task execution.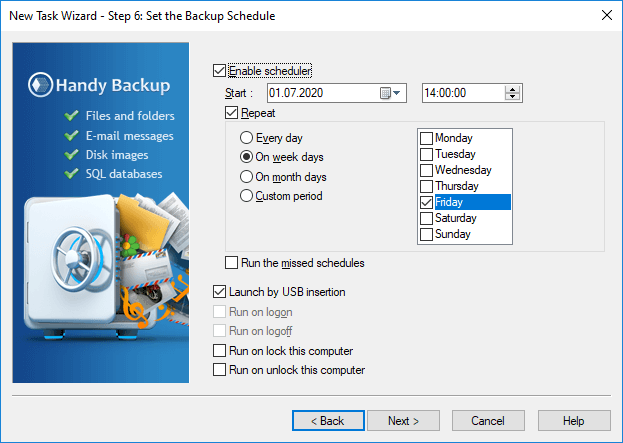 Give your task a name on the last step. Uncheck the "Execute this task immediately" checkbox, so the task will be executed date on selected in previous step.
Congratulations, your scheduled backup task was been successfully created!
Download Commercial Edition Handy Backup having all scheduled backup functionality with 30-days free trial!
See Also: