Automatic Google Drive Backup Solution
Handy Backup is a Google Drive backup software which includes some advanced tools for saving your data. The software has capability to backup your files to any cloud storage, such as Dropbox and OneDrive.
Advantages and Features of Backup to Google Drive
Handy Backup keeps the original format of your backed up data so that you can use it directly from Google Drive or restore it at any time. Also you don't have to completely recover your data if you need only some individual files.
With Handy Backup you can schedule your backup task and it will execute automatically. If you don't want it to distract you from work, you can just run it as a Windows service.
Moreover, Handy Backup protects your information. Hence nobody will have an access to it because the software allows encryption and compression of data.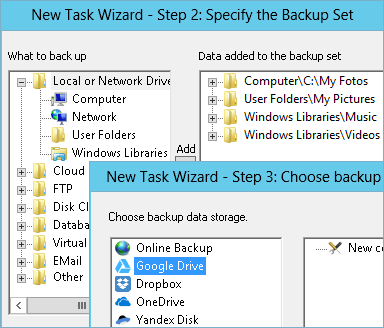 Handy Backup uses different methods and flexible settings for backup your data to Google Drive. However, if you want to backup from cloud storage, you can use Handy Backup Standard.
Learn more about: